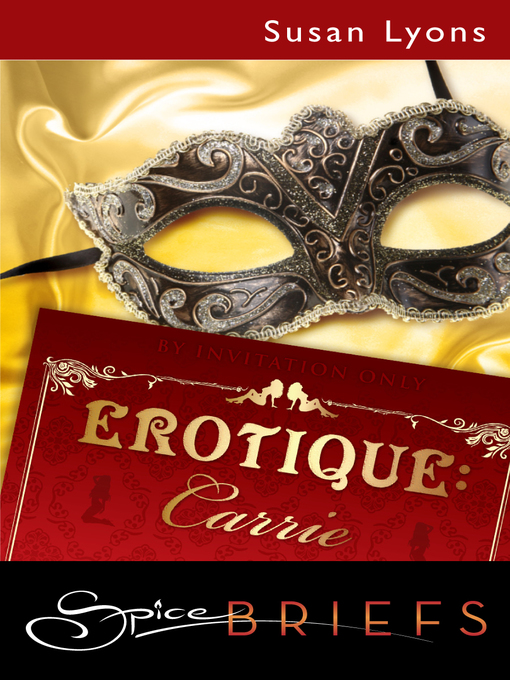 Hello Fellow Writers!
Tomorrow I am going to the
Hudson Valley chapter
of Romance Writers of America's monthly meeting. I went last month and found it very interesting. Authors read excerpts from their works in progress and were critiqued by everyone. I'm debating whether or not I should bring something from "Snowed in With a Millionaire"... we'll see. The jury's still out on that one.
I haven't heard back yet from my critique partner Maureen regarding a story I wrote and intend to submit to
Ellora's Cave
by January 31st. I'll have to ask her about it at the Hudson Valley RWA meeting tomorrow (unless it snows again, in which case I doubt she'll drive)!
Harlequin also has a line of erotic romance called Spice. The shorter stories are called
Spice Briefs
. Here are the writing guidelines for anyone interested in submitting to them, from their website at
eharlequin.com
.
Spice Briefs


Word Length: 5,000–15,000 words
Format: eBooks
Editor: Susan Swinwood
Assistant Editor: Lara Hyde
Editorial Office: Toronto
Spice Books is looking to acquire bold, sexually explicit editorial that pushes the envelope for its new eBook erotica program, Spice Briefs. These are highly erotic short stories; although brief, these novellas should still establish context for the erotic content through an interesting and engaging premise (a great hook), a well-constructed plot and believable characters. Quality editorial is paramount.
Like Spice Books, what will set Spice Briefs apart is its broad spectrum of sexy editorial. We are looking for all kinds of subgenres—contemporary, ethnic, literary, mystery/suspense, historical and paranormal stories told in first- or third-person point of view or, if it works for the story, multiple points of view. Authors should feel comfortable exploring any and all sexual scenarios, even ones considered "taboo," and should avoid using euphemisms in favor of the frank, graphic language typical of the erotica genre.
Only complete manuscripts submitted electronically will be considered; no partials or queries, please. Submissions should be sent as a Word file attachment, or in a program that can be converted to Word. Submissions should also follow standard formatting guidelines—double-spaced and written in a clear, legible font on numbered pages. Author name and title should appear as a header or footer on each page, and please ensure that the title of the submission appears in the e-mail's subject line.
Spice Briefs
E-mail address: spicebriefs@harlequin.ca
I really like how you can submit the entire manuscript, instead of just a query and synopsis. I feel like that brings you one step closer to publication since you don't have to hope the synopsis conveys the feeling of the story, you can let the story speak for itself.
If I do end up reading an excerpt from one of my manuscripts tomorrow for the Hudson Valley RWA meeting, wish me luck and good luck to you too!
Yours Truly,
Shoshanna Evers